Healthy and motivated employees are the be-all and end-all for every company. As a result, more and more companies are investing in the physical and mental health of their workforce by including company fitness in their corporate health management (CHM) strategy.
Sports and fitness, alongside nutrition and stress management, significantly contributes to well-being in the workplace. However, introducing a holistic corporate health management strategy doesn't just benefit employees. It benefits companies too. Corporate fitness has evolved from a "nice-to-have" to a must-have for companies of all sizes.
In this article, you'll learn more about the concept of corporate fitness and how it benefits both companies and staff.
Three reasons why companies should implement corporate fitness
The workforce is getting older
Changing demographics is a critical challenge of our time. As our society gets older, so does the average age of the workforce in many companies. This presents companies with a serious problem as statistically, older employees are more likely to be absent due to illness.
According to Informationsdienst des Instituts der deutschen Wirtschaft (iwd), absenteeism among over 55-year-olds is more than twice as high as among 35 – 39-year-olds. With an aging demographic, the number of days employees are unable to work is on the rise which leads to high follow-up costs.
High costs due to sickness-related absence days
According to the Bundesanstalt für Arbeitsschutz und Arbeitsmedizin (baua), employees reported an average of 17.1 days of sick leave in 2020. This led to 87 billion euros of financial losses in Germany.
Many diseases are triggered by chronic lack of exercise or stress including cardiovascular diseases, musculoskeletal disorders, obesity and related illnesses such as diabetes. If you intend to reduce the sickness rate of your workforce and actively promote the health of your employees, company fitness works as a preventive measure.
New challenges posed by the pandemic
The Corona pandemic turned our work lives upside down and many employees struggled to adapt to the "new normal." Mental illness increased due to isolation from home office and the burden of childcare on top of everyday work.
According to Informationsdienst des Instituts der deutschen Wirtschaft (iwd), mental health accounted for 17.5% of sick days in 2020. The second highest reason for illness after musculoskeletal disorders (24.6%). Sports courses or fitness training boosts endorphins and helps establish a healthy work-life balance. Sports can also create a sense of community which helps combat loneliness.
Especially in uncertain times, corporate benefits help employees stay in contact with colleagues which helps maintain loyalty to a company. Let's take a look at the benefits of corporate fitness and the advantages of fitness courses for companies and employees.
Benefits of corporate fitness for companies and employees
These days, high salaries and company cell phones don't cut it. Employees need more to remain loyal to their employer, which is where company fitness concepts come in.
Fitness and health offers help your company sustain a happy work culture, increase employee motivation and introduce a feel-good atmosphere. With company fitness, staff will be supported and encouraged to improve their physical and mental health and learn how to relax and reduce stress. This leads to increased productivity and a better work-life balance.
Corporate fitness is essential to a holistic employer branding strategy and helps retain skilled employees. Companies can stand out from competitors in job searches and gain a major advantage in the war for talent.
How does corporate fitness work?
Increased employee health and wellbeing is a major benefit of corporate fitness. But how does corporate fitness actually work?
First, companies collaborate with a company fitness provider of their choice. Here, companies can sign a contract with a basic provider such as individual gyms, yoga studios, outdoor bootcamps, personal trainers or similar services. However most companies find these options don't provide the flexibility and versatility their employees need.
That's why most businesses opt for a broad-based corporate fitness provider like Urban Sports Club that have partnerships with a variety of sports venues such as gyms, yoga studios, swimming pools, climbing gyms and much more. This means staff can benefit from a flexible and diverse range of sports.
Urban Sports Club's corporate fitness contract terms are individually tailored to the needs and conditions of the respective company. We believe there's no "one-fits-all" when it comes to corporate health promotion.
The right contract depends on the company's objectives, the size of the company, the budget and recently updated tax benefits.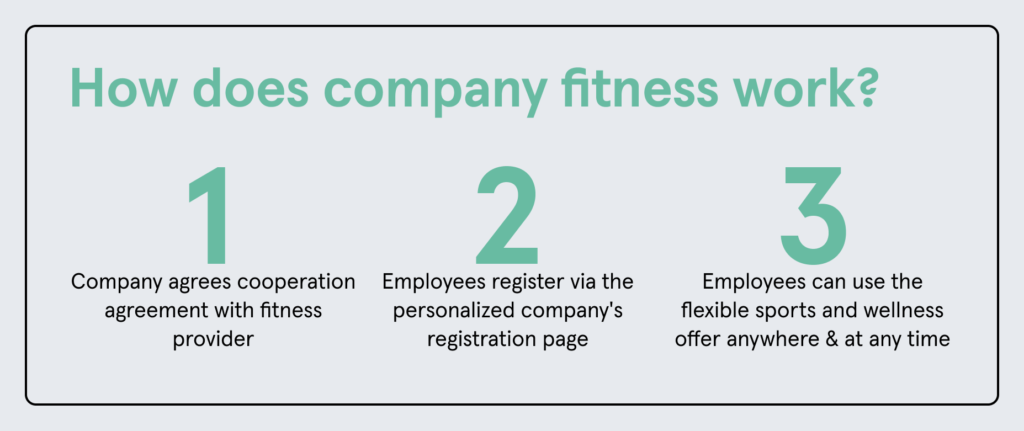 Why is Urban Sports Club the right corporate fitness provider?
The largest and most flexible sports offer in Europe
Urban Sports Club has the largest and most flexible sports and wellness offering in Europe. Employees can choose their workout from over 50 sports at more than 7,000 partners in Germany. In addition, Urban Sports Club has an online offer with live online and on-demand courses as well as masterclasses. This aligns with our corporate customers as just like the future of work, the future of sports is hybrid, so employees can remain flexible without limits in the new hybrid world. With just one cooperation, your employees can choose which studio or course to try. Even if your company has multiple locations.
Completely digitized offering
With the Urban Sports Club app members can find and book suitable courses and check-in on site or take part in live online courses from the comfort of their own home. Companies receive a completely digitized overview of member activity in the company portal so HR managers can review sign-ups and manage memberships quickly and easily.
A reliable partner for successful implementation
Companies can only enjoy the benefits of company fitness if their team signs up to it, so Urban Sports Club provides an onboarding team to give advice and support after the contract has been signed. Urban Sports Club also provides marketing materials for internal communication to give staff information about the framework as well as the benefits of corporate fitness. Further promotions measures can also be coordinated with your company's designated Onboarding Manager.
A partnership with Urban Sports Club is an effective way to implement a successful corporate health management strategy. If you're still not sure if Urban Sports Club is the right fitness partner for you, listen to what our happy customers have to say:
Company fitness as part of a holistic BGM concept
Company fitness does not solve all issues related to occupational health management. However especially in larger companies exercise and fitness should be seen as one very important component within a health promotion program. Nutrition and stress management should also be taken into account when building your holistic corporate health management strategy.
To find out more, get in touch with the Urban Sports Club team today.